<< Back to main
Spring CSA Week 4!!!
Posted 6/2/2018 2:18pm by Z Farm Life LLC.
Hello All!
It's hard to believe but we are now at the half way point in our Spring CSA delivery :)I hope you all are enjoying the fresh picked veggies! The weather has been a little nutty but our harvest has been holding up pretty well. With that in mind please get your veggies inside as soon as possible.
We have added ice-packs to your boxes when we feel it's necessary but the warmer humid temps can certainly can cause some issue with more sensitive produce.
If you ever receive produce that is not up to par please let us and know and we will be happy to replace it the following week. Unpredictable & hot conditions are not always easy on fresh veggies!
Don't forget... we recycle bags, our boxes and ice-packs so please leave them out for your delivery driver to retrieve when dropping off your share each week.
We are currently taking members for our Early Summer CSA program. Sign up soon to reserve your spot!
Thanks to all of our loyal members for your support this season! It means the world to us :)
*Veggie of the Week: Garlic Scapes!!! They taste just like fresh garlic. No peeling required. I posted some recipes below. Enjoy!!!
Ingredients
1 stick salted butter, softened
1-2 garlic scapes
zest, from 1/4 of a lemon
Instructions
Chop the garlic scapes into small pieces, about a quarter of an inch each. Add the pieces to the bowl of a food processor and chop until fine.
Add the butter (you may need to give it a rough chop in order for it to fit in the food processor) and the lemon zest to the garlic scapes.
Puree in the food processor until all ingredients are evenly combined
Storage:
For immediate use, place the compound butter in a jar or plastic container. Store in the fridge for up to a couple weeks
For longer term storage, place the compound butter on a piece of wax paper, roll it into a log and twist the ends. See the image below. For additional protection, place the roll of butter into a plastic zipper bag. Store in the freezer for 2-3 months.
Garlic Scape Pesto
Ingredients
1

cup

garlic scapes

cut into pieces

10

fresh basil leaves

1/4

almonds

you could use pistachios, pine nuts or walnuts

1/4

cup

parmesan cheese

Salt and white pepper

to taste, if desired

1/2

cup

good quality olive oil
Instructions
Combine the basil leaves, garlic scapes, and almonds in a food processor. Pulse until everything is broken up into small chunks.

Add the parmesan cheese, salt and white pepper. Pulse briefly.

Turn the food processor on and slowly add the olive oil until the pesto is the consistency you like.

Remove and transfer to an air tight container, pop in the fridge until needed.

Or just shove it all in your mouth immediately, whatever works for you.

You can use this over pasta, crostini, sandwiches or for dip for some great crackers. However you use it make lots because it will be gobbled up quickly.

Serve with a big old garlic scape loving smile!
Garlic Scape Scampi
ingredients
1 tablespoon olive oil
1 tablespoon butter
1 pinch red chili pepper flakes (optional)
1/2 pound shrimp (shelled and deveined)
1/2 cup white wine
1/2 lemon (juice and zest)
1/4 cup garlic scapes (finely chopped)
1 tablespoon butter
directions
Heat the oil and melt the butter in a pan.
Add the red chili pepper flakes and saute until fragrant, about 1 minute.
Add the shrimp and saute until cooked, about 2-3 minutes per side.
Remove the shrimp from the pan.
Add the wine and lemon juice and bring to a boil.
Simmer the liquid until reduced by about half, about 3-5 minutes.
Add the garlic scapes and simmer until fragrant, about a minute.
Add the butter, wait for it to melt and turn off the heat.
Grilled Garlic Scapes
Serves: 4
1

pound garlic spears


3

tablespoons olive oil


1

tablespoon butter


1-2

pinches salt and pepper (course sea salt, preferably)


1

tablespoon shaved parmesan-reggiano cheese (optional)

Trim off 1 inch from the bottom of the spears as well as the brown part of any tips.
Heat a large skillet, preferably cast iron, over high heat. Add 2 tablespoons of olive oil and spears to the skillet and toss until coated. Sauté for 4-5 minutes, or until they are slightly tender. If they look like they are drying out, add 1 more tablespoon of olive oil. Remove from heat, add butter, salt, and pepper, and toss.
If using a grill, place spears directly on the grill grate, making sure the internal temperature of the grill is at least 425 degrees F. If using an oven, place cast iron skillet directly in the preheated oven (preheated to 425 degrees F) with spears in it. Grill/roast for another 7-10 minutes, or until the spears begin to char slightly.
Remove from grill/oven and eat hot or serve cold, with or without shaved parmesan-reggiano cheese on top. You can also add the spears to salads, pastas, and soups...get creative with it!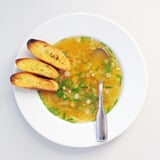 Garlic Scape Broth
Ingredients
7 cups chicken stock
1/2 pound green garlic shoots or ramps, thinly sliced
2 cups leeks, cleaned and thinly sliced
Kosher salt
Black pepper, freshly cracked
Lemon juice, freshly squeezed, to taste
4 scallions, thinly sliced
1 baguette, sliced on the diagonal 1/2-inch thick
Olive oil, for brushing
2 tablespoons chives, snipped into 1/2-inch pieces
Directions
In a large saucepan, bring the chicken stock to a boil, then reduce to a simmer.
Add the green garlic shoots and leeks. Simmer for 5 minutes. Check seasoning and adjust with salt, pepper, and lemon juice. (Soup may be made in advance up to this point, then reheated.) Just before serving, stir in scallions.
While the soup simmers, brush the baguette slices with olive oil, and toast.
Ladle into soup bowls, add sliced baguette (three slices per bowl is a good place to start), and sprinkle generously with chives.
Ingredients
To Make about 2 Pints of Pickled Garlic Scapes:
2 bunches garlic scapes (washed and trimmed of any withered or brown areas)
1 ½ cups apple cider vinegar
1 ½ cups water
2 tablespoons kosher salt
2 tablespoons raw sugar (can substitute granulated white sugar if necessary)
Additional ingredients PER PINT:
½ teaspoon black peppercorns
½ teaspoon mustard seed (not ground mustard)
¼ teaspoon crushed red pepper flakes (can omit if you're sensitive to heat)
¼ teaspoon coriander seeds (not ground coriander)
Instructions
Coil each garlic scape and insert into a sterilized mason or ball jar. When you have filled the jar to within 1/4 –inch of the top of the jar, coil or break any extra scapes and stuff them down into the center of the jar. When the jars are full of scapes, add the spices to each pint jar. Set aside.
Bring the apple cider vinegar, water, salt, and sugar to a boil, stirring until the salt and sugar are dissolved. Carefully pour the boiling brine over the garlic scapes. The garlic scapes will probably pop up and look like they are trying to get out of the jar. Use a sterile chopstick or butterknife to push it back into the jar. Wipe the rims of the jars, then fix the lid tightly into place. Let the jars come to room temperature before storing in the refrigerator for 6 weeks before opening and tasting. Be patient. It's worth it!
White Bean and Garlic Scape Dip
Wondering what to do with garlic scapes? Puree them into a quick and creamy, garlicky bean and garlic scape dip! Great as a healthy snack or for a party!
Ingredients
1

cup

garlic scapes

2

15-oz cans

white cannellini beans,

drained and rinsed

1/4

cup

extra virgin olive oil

1/4

cup

water

1/4

cup

chopped fresh parsley

kosher salt and pepper,

to taste
Instructions
Bring a large pot of water to a boil and set out a bowl of ice water. Add the garlic scapes to the pot and boil for 30 seconds. Drain and plunge the scapes into the ice water. Roughly chop most of the scapes and finely chop a few for topping the dip.

Add the garlic scapes, white beans, olive oil, water, and parsley to a food processor (or blender) and process until smooth. Add more water if it's too thick. Taste the dip and add salt and pepper to taste.

Serve topped with some garlic scapes, chopped parsley, and a drizzle of extra virgin olive oi.
Recipe Notes
When using garlic scapes, only use the smooth stem part of the scape. Cut them just before they flare out into a bulb and then start to taper down.
You can find garlic scapes at specialty food markets and farmer's markets.
If you can't find garlic scapes, use 2-3 cloves of blanched garlic and the green parts of 2 green onions in their place. It will be a spicier dip (with the onions), but still very tasty.